From WeFish we are revolutionizing sportfishing. Which angler has never dreamed of knowing if he or she is going to fish something or not in each fishing day? Could it be that our lures are less and less effective even if we use them in the same way and in the same places? Do fish learn to avoid our lures? What kind of sorcery is this?
We know that not all species act the same. The behavior of these fish depends on the area in which they live, the type of food they are after, the atmospheric conditions and the particularities of the place, the expertise of each species to avoid fishermen… That's why we have created the perfect solution: The definitive tool to know where and when to fish is now available, so you can get your dream catch!
We present FishGuru, the new tool that will allow you to know the species activity in your favorite fishing spots.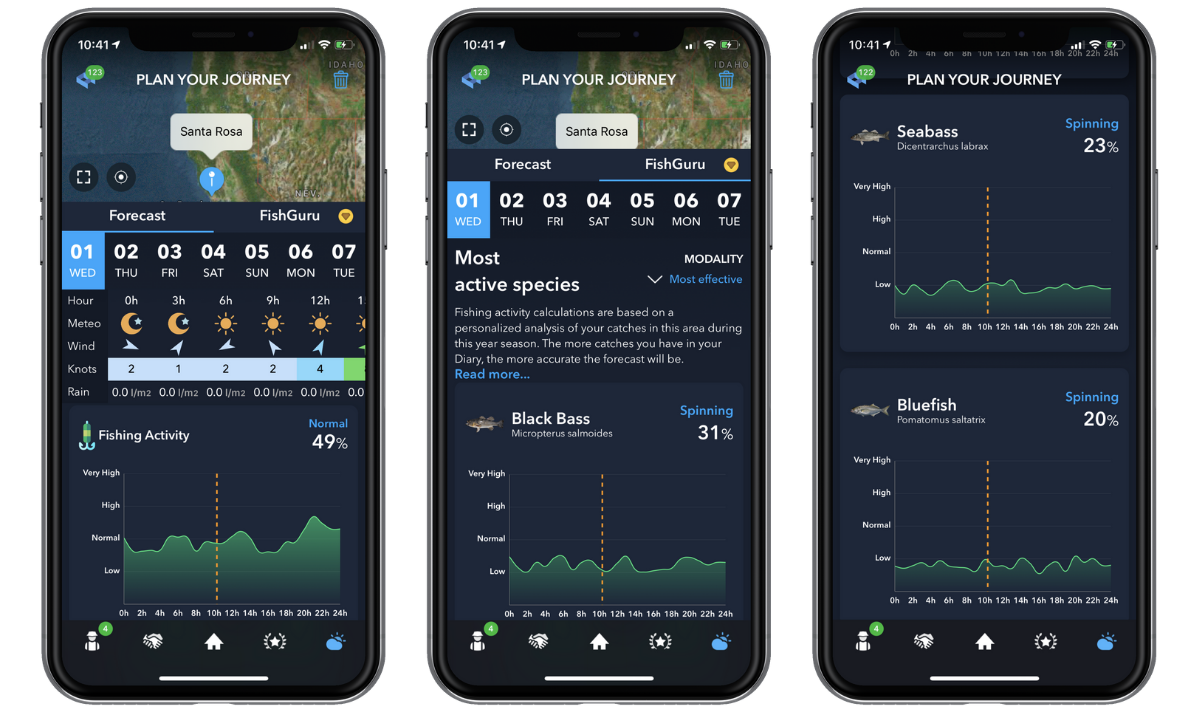 With FishGuru you will be able to identify the best times to fish. It offers you a detailed hourly forecast of the activity of each species in an area, with the modality that we have detected as the most effective for you and an estimate of the probability to catch a fish, depending on your characteristics as angler.
For the development of this innovative fishing tool, WeFish has counted on the information of hundreds of thousands of catches, to provide the maximum success in the fishing forecasts that we offer to each fisherman. FishGuru also has the support of various Spanish universities that help the research and development of this new functionality, being a tool with a very high technological component. Fishermen and fisherwomen around the world, we have put robots to work to discover the secrets of fishing.
But perhaps you have thought: "Surely they are general statistics of each species or area. This is very useful for experienced fishermen, who handle the definitive ancient fishing gear and are capable of catching any fish that meet them, even with a toothpick … ". Nothing further from the truth. The data that FishGuru offers are totally personalized for each angler, depending on the catches already registered by each user in their fishing diary. FishGuru learns with your fishing skills. Depending on the catches that you are better at fishing or your most effective modalities, the statistics of FishGuru will be adapted to your angler skills.
It's very important that you upload all your catches to your fishing diary in WeFish, so that the FishGuru data is perfectly adapted to you and your fishing forecasts are very accurate. In this way, dear WeFisher, go forgetting not to fish anything because there will be no fish to resist you.
One thing is for sure, at WeFish we fully respect the privacy of anglers fishing spots. Therefore, this new tool does not endanger the fishing points of any user since all the information collected is completely anonymous and private.
FishGuru will provide you with the help you need, but of course, it cannot go fishing for you (no, it does not work miracles either, you will have to catch the fish yourself). But now that you have the definitive tool to catch fishes, what are you waiting for to plan your fishing journeys with WeFish?