We present you the jewel in the crown of WeFish: The Fishing Diary. Have you managed to catch the fish of your dreams and don't know where to keep that unique and special picture in which you are holding that fantastic catch? Would you like to be able to share that image so that fishermen from all over the world envy you? Do you want to know all the professional statistics about your catches?
At WeFish we know that each image, each catch and each bite represent a unique and sometimes unrepeatable story. So we want you to be able to keep forever that little part of you that goes with every fish you catch. Along with your image, you also have the possibility to record with what materials you have managed to get that fish out of the water.
But there is more than just recording the materials with which you caught that fish. Thanks to the WeFish Fishing Diary you can automatically record all the statistics necessary to become a professional of sport fishing! Get to know all kinds of meteorological information about that catch: the solunar phase it was in, the state of the tide, the temperature, the wind speed and the atmospheric pressure of the exact moment of the bite.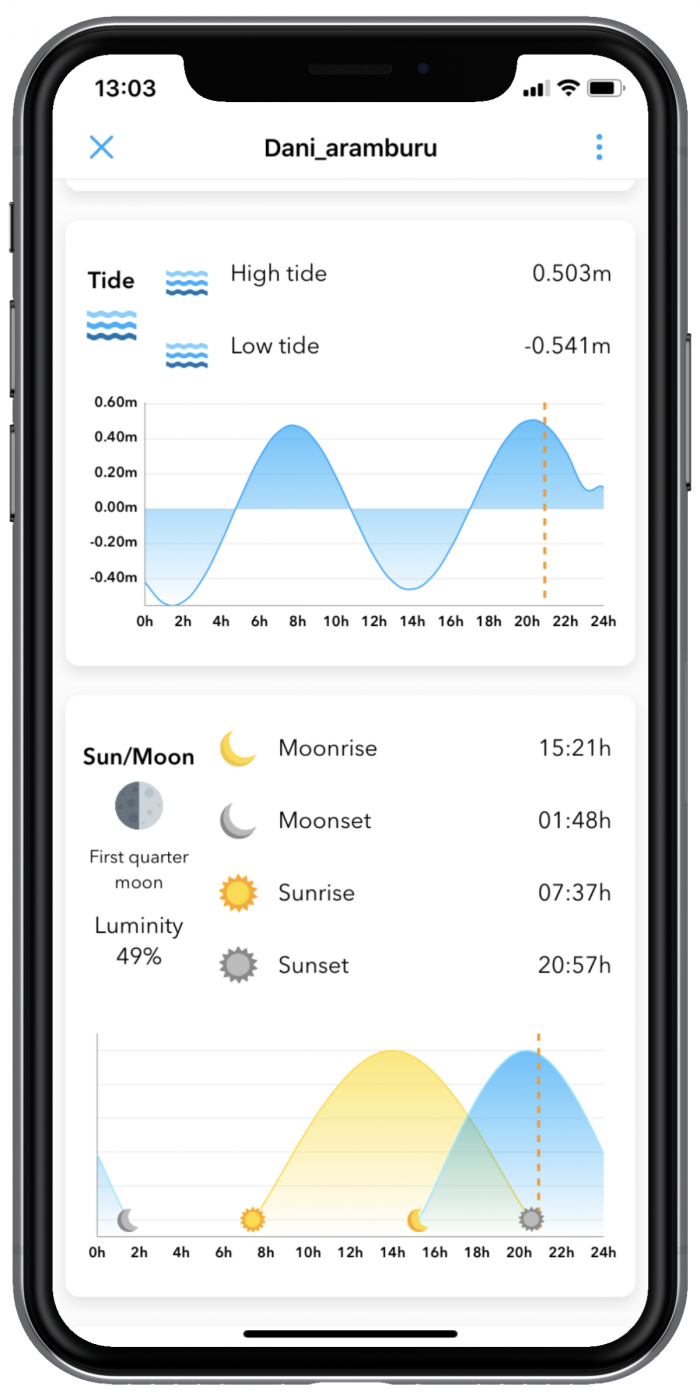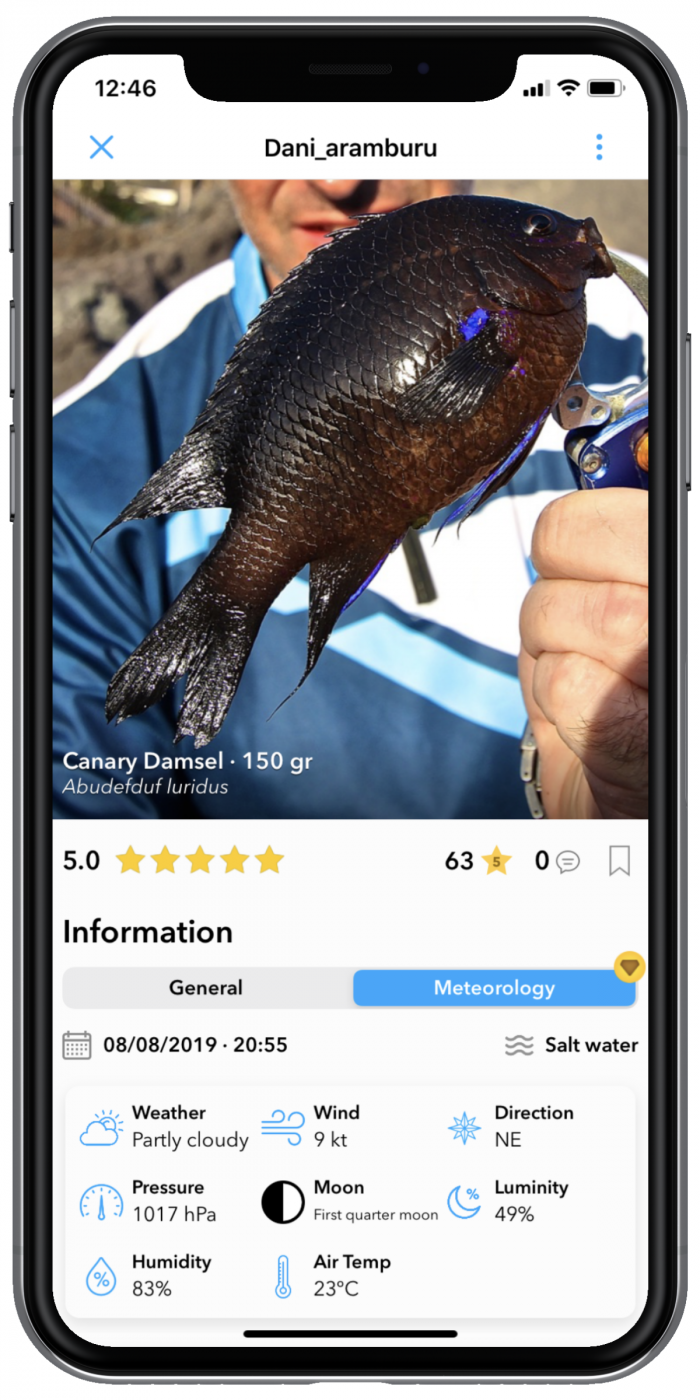 With the WeFish Fishing Diary you have statistics and meteorological information of all your catches.
All this information will be very useful throughout your adventure in WeFish. The statistics that your personalized Fishing Diary offers you help you to know the behavior of your catches, which will allow you to know which kinds of lures, threads or rods have worked best for each species.
But… Attention! We want to emphasize that all the locations of the catches are completely private and personal. None of the data about your fishing spots is disclosed to other users, under any circumstances. As fishermen, at WeFish we know that this is very important and, therefore, we want to make it clear that it is one of our top priorities.
The best thing about enjoying such an experience is not only having lived it, but being able to share it with others. And let's be honest… also making them a little jealous. With WeFish you can make fishermen from all over the world enjoy your catches and value them with "golden stars", which can crown you as the best angler. Plus, you can learn fishing tricks with the catch and tips from other community members, because fishing in company is always better!
It is very important that you don't include false data or fake catches in your Fishing Diary: Neither that Black Bass weighed 37 lb, nor have you caught it with your teeth…, it is also worthless if you search in the internet pics of the fish of your dreams and share it, because it loses the emotion and that unrepeatable experience of trying to fish it yourself. Lying in your Fishing Diary hurts you more than it benefits you. This is because the data in your profile will help you obtain more accurate fishing predictions when using the FishGuru. Therefore, it's also important to follow the rules of WeFish user guide, which not only defend responsible fishing, but also help you get accurate data on each catch.
Your personal Fishing Diary will become your best partner for your adventures of each fishing day. With it, each catch will last forever. You can relive that moment as many times as you want and share it with your friends and other anglers around the world. We can tell you all the wonders of this tool, but you will not know it completely until you try it for yourself. What are you waiting for to start your own Fishing Diary on WeFish?