If you are wondering where to buy a Florida fishing license, you have come to the right place. At WeFish, we can tell you where you can get a Florida fishing license, whether from a physical location or online.

Fishing licenses in Florida
The state of Florida is considered one of the best destinations for fishing in the United States. Its climate, variety of coasts, lakes, and diversity of species make this place one of the favorites for anglers. From WeFish, we have also compiled a list of the top eight fishing spots in Florida.
Well, let's start with what a fishing license is, and why we need one to fish in Florida. A fishing license is a necessary accreditation to practice legally and within the regulations of this past time that we like so much, sport fishing. Depending on the country and even the state, in the case of the United States, fishing licenses and their regulation are different. In addition, depending on the area where we want to fish, the species we want to catch or whether it is in fresh or saltwater, the fishing license we need may be different.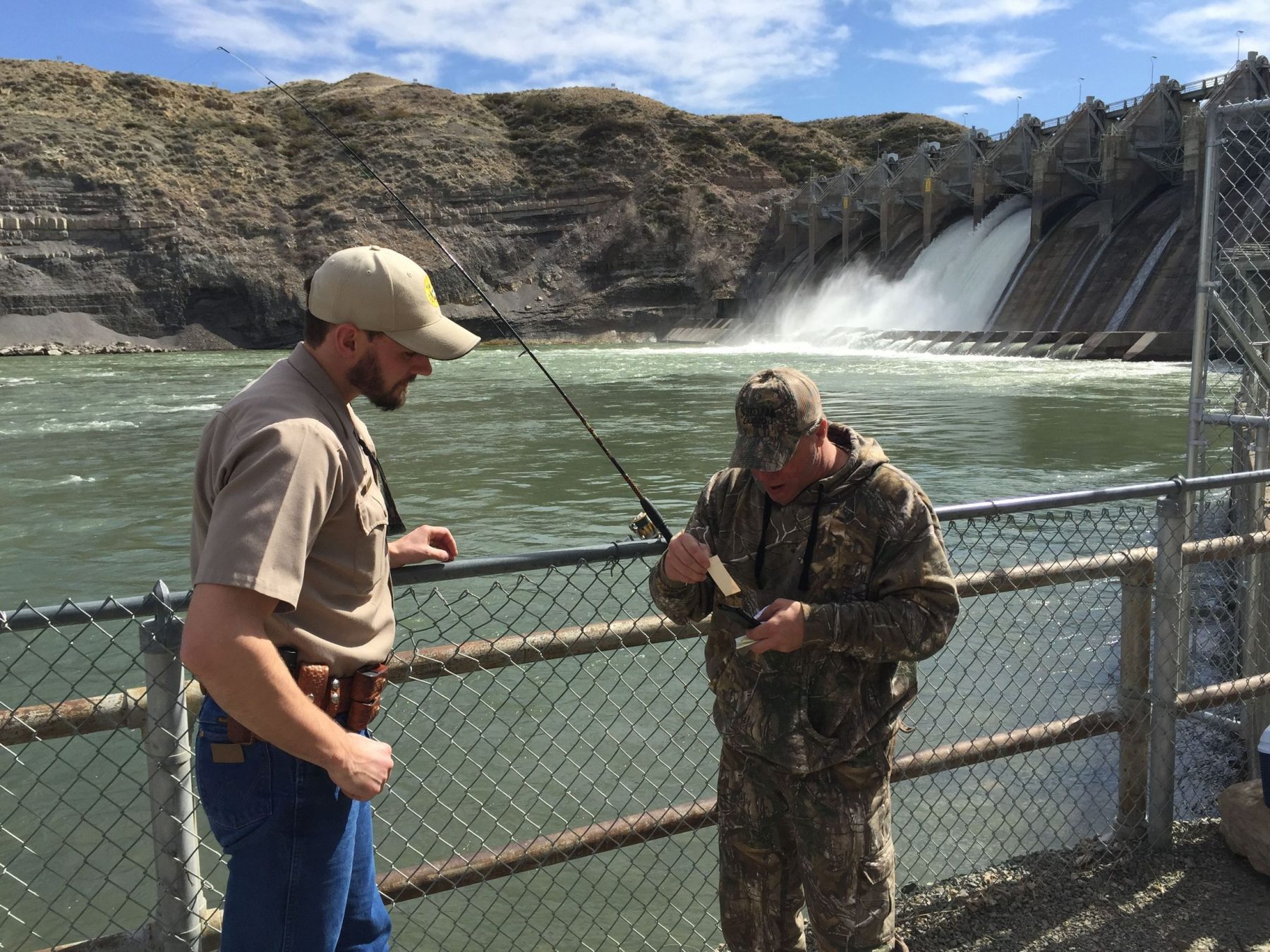 In Florida, if you are over 16 years old, whether you are a resident or a visitor to this wonderful state, if you go fishing, you will need a license. Some of the license types that exist are:
Recreational License
Saltwater Fishing Licenses
Freshwater Fishing Licenses
Commercial Saltwater Licenses
Commercial Freshwater Licenses
FWC Saltwater Charter
Recreational Vessel and Saltwater Fishing Pier Licenses
Therefore, before you start fishing in Florida, you should find out which fishing license is the one that best suits your needs and then acquire it.
Where to buy a Florida fishing license?
To buy a fishing license, we have several options, both online and physical. We explain each of them below:
In person
You can buy a fishing license in person, physically and in various places:

At the tax collector's office. The tax collector serves as an agent of the Florida Fish and Wildlife Conservation Commission. So, this office is responsible for the sale of a variety of hunting and fishing permits. In addition, it is the least expensive place to buy a Florida fishing license.
Each county in Florida has its own tax collectors office, you can go to the closest to you in order to get your fishing license. For example, this is the direction of the Tax Collector's Office in Miami-Dade County, Florida.
There are some Bait-and-tackle shops and sports retailers that work as license agents, so you can also buy it there. There is a small additional fee, but maybe you gain more convenience. There are several locations in each city of Florida, including Wal-Mart, Orange TC, Bass Pro Shops, Outdoor World, Dick's Sporting Goods, Academy Sports & Outdoors, Miami-Dade TC, Crook & Crook Inc., El Capitan Sports Center Inc., Rampway Marine Supply, River Marine Supply, Hillsborough TC, etc.
You can find which agents sell fishing licenses in each city in Florida on this website. For example, in Key Largo, The Yellow Bait House is one of the places where to buy a Florida fishing license.
Not physically
You can get a Florida fishing license online, at the internet, through the GoOutdoorsFlorida.com website. You must first create an account or log in, indicating whether you are a citizen of the United States or an international customer. Then you select the license you want and finally you make the checkout. The license catalog will vary depending on whether you are a resident or not, your age range and the activity you want to do, freshwater or saltwater fishing. Some of the most commons packages are for example:
Lobster Combo: Saltwater Fishing License with Lobster Permit
Saltwater Angler: Saltwater Fishing License with Snook and Lobster Permits
Scalloper: Saltwater Fishing License and $5 Donation to Youth Programs
Gone Fishing!: Freshwater and Saltwater Fishing Licenses with Snook and Lobster Permits
Florida Sportman: Freshwater, Saltwater, Hunting, Snook, Lobster, Archery, Crossbow, Muzzleload, Turkey, Deer, Waterfowl, Mgmt Area, Mig Bird, Federal Duck Stamp
By calling toll-free 888-FISH-FLORIDA (888-347-4356).
For more convenience, and especially if you do it through your smartphone, you can purchase a fishing license through the Fish|Hunt FL App. This app is free and available for both iOS and Android devices. This app, by The Florida Fish & Wildlife Conservation Commission, is easy to use and allows you, among other things, to buy a Florida fishing or hunting license. Users of the app can also access regulations, get a copy of their licenses, and obtain weather information based on a specific geographical point.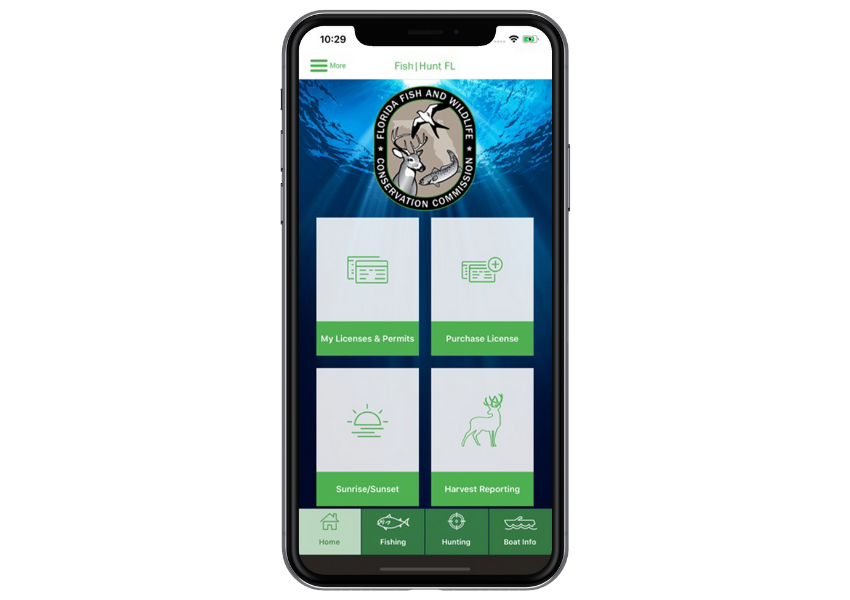 But if what you are looking for is a tool to plan your fishing journeys by accessing forecasts and the best weather information, WeFish is the app you are looking for. We do not sell fishing licenses at WeFish (sorry, we cannot offer you everything), but we can help you to plan your outings and to get more and better catches. FishGuru will give you fishing forecasts, species activity, and weather information for a specific day and area, making it easy for you to optimize your time on the water, and get the biggest catch possible.
Other questions about Florida fishing licenses
From the WeFish blog we want to provide you with all the information related to fishing in the state of Florida. Due to this, we will resolve any questions about Florida fishing licenses. Click on the one you want to know more information about. And of course, if you have any questions, you can write them in the comments so that we can solve them.
---
After reading this post, we hope you are clear about where to buy a Florida fishing license. You already know that you have several options: tax collector offices, retail stores, online, through the app or by call. Choose the one that suits you best and start fishing in one of the most desirable places frequented by American anglers.