Are you looking for a good fishing charter experience? Do you want to book a fishing trip wherever you are? Is it hard for you find trusted platforms that do so? Are you worried that the guides may not be that professional? Well, We have some great news for you! This is because today, in WeFish, we have the answer for all these worries, and it's called Tom's Catch. Let us explain to you along the following lines more about why to choose them when preparing your next fishing trip and why you will not find anything better than them!

What is Tom's Catch?
Only the best professional charters and guides
When it comes to fishing, there's no experience that can compare a fishing charter. For those who don't know what that is, a fishing charter is an excursion service that boat owners and professional anglers offer to other guests who want to maybe experience different waters and other fishing techniques that the ones they are used to. Catching some fish in unknow waters can be very exciting, especially when it's an organized fishing charter, but it's possible that you may need some help too. You will encounter many species that are rarely seen next to the shore and, as we said, practice different kinds of fishing techniques that you may not be so familiar with: bottom fishing, trolling, jigging, deep sea fishing, popping, etc.
Tom's Catch is a service that connects you with all these professional anglers that are going to be with you along this adventure and who are going to give you the best pieces of advice! It has more than 500 boats worldwide and it will happily lend you a hand when you're trying to find the best boat and captain to plan your fishing trip wherever in the world you need it. Tom's Catch only selects the best professional charters and guides to assure you a very fulfilling experience full of knowledge to gain and fish to catch! The professionals selected by Tom's Catch will be around you at all times to help you with whatever can come up, they will take you to good spots and advise you from their own experience on the area if you need to. They will be there to cover you if you need some assistance, no doubt about that!
Also, embarking on a fishing trip using these kinds of services doesn't mean that everything will be about fishing. You will definitely enjoy the sun, company, sea breeze and all the knowledge you can get from the crew. The experience is what you make of it! Use it to relax and contemplate the beauty of the blue sea while you, of course, catch some amazing fish! Tom's Catch is perfect to make some valuable memories you won't easily forget.
How does Tom's Catch work?
Once you log in into Tom's Catch you will get to their main page, which is extremely simple and user-friendly. There, you will find a search bar where you will be able to select the place where you want to look for the services, the date you want to go, and the people that are going to be participating. We insist that they only have the best professionals, and they will be taking excellent care of you and the people you're going to take part in the trip with!

Once you click on the search button, Tom's Catch won't only show you the best fishing charters around the area, but also other information about the place you've typed into the location searcher. It will show information about how the fishing life in that place looks like, a map of the location, the top techniques that are used there, the users around that area, some other interesting fishing cities next to your typed location, as well as the most common species. These species are displayed in a very nice way and linked to Tom's Catch's atlas, where you can find more information about them, such as the weight, lures to catch it, and even other locations where that species are active!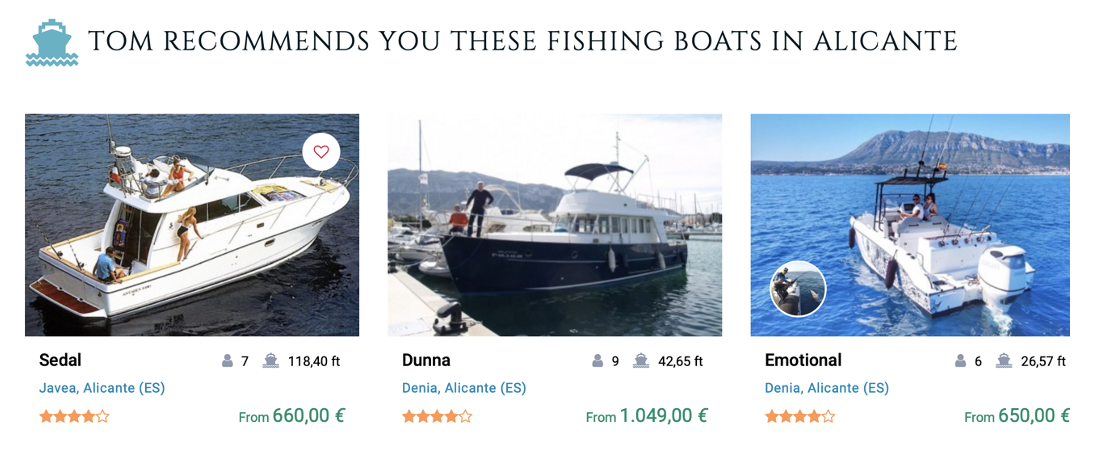 Once you've typed your location, you can even filter your results by fishing technique. Also, every charter has a rating system, in which they have been rated before from other users who have used their services. This way, you will be able to see how other anglers liked them and what they have to say about their experience. This way, choosing the right charter will be much more comfortable and reliable!
Tom's Catch will always make sure that your details are always safe and protected thanks to their secure connection. Also, and this is a really nice plus for them, you will get your money back in case the weather is bad and the trip doesn't happen in the end, or you can also keep the money in their platform and use it for your next fishing trip. To secure the best place in the market, they will even match other prices if you find the fishing charter you're interested in cheaper somewhere else. They really do care to have the best prices for you.
Tom's Catch also for charters
Needless to say that Tom's Catch not only offers a great variety of charters to choose to anglers, but that it can also help those charters who are looking for a place to advertise theirs business and gain more visibility. Tom's Catch makes it free to advertise your boat. So in a couple of clicks you can easily boost your business and make it visible for people from all around the world. It also provides an easy way to manage your booking through your phone, since you will be also receiving your bookings via email.
Translations are also provided if you don't have any for your texts, which you can, by the way, personalize however you want. Also, Tom's catch secures your bookings with a deposit paid online. The balance is due directly on board so that the charter gets the money immediately!
---
Once again, we insist on the magnificent experience that it is to go on a fishing trip with a charter. The experience is unique, and it is suitable for families, friends, and even to go alone. In WeFish we believe Tom's Catch has everything it takes to take very good care of you so you don't have to worry and look for too long for a good charter. It even has a blog where you can see many different interesting articles about the fishing world. Check it out!
Discover the fishing charters near me with tomscatch.com.