WeFish Leagues begin! Participate in your own fishing competition with the users you follow, in a totally personalized way and from anywhere in the world. Will you become the legend?
A new way to enjoy fishing
A catch is no longer just a memory or a record of your activity, it is also being able to prove that you are the best fisherman. Any capture will help you to be better. It doesn't matter if it's a big fish or a small one, an ugly fish or a pretty one, if it was a dangerous fish or not. Every catch counts towards our goal of reaching the top spot in the WeFish Leagues.
The best fishing tournament in the world in WeFish APP
We have several rankings within our League, such us general, eging, heavy jigging or the most special and unique in the world: the League of Legends. The best anglers from around the world will compete in this league: Legend level anglers. This competition will be visible to all anglers in the WeFish community, which will allow us to enjoy one of the best fishing tournaments in the world and follow all the changes in the ranking day by day.
How to participate in fishing tournaments
Participating in the WeFish Leagues is very simple:
Upload a new catch to WeFish, indicating the technique you used to catch it (spinning, jigging, rockfishing, eging…).
Automatically, the race to the top of the ranking begins. You will compete against the users that YOU FOLLOW in each of the categories in which you have uploaded a capture during that season. The users that you follow and do not follow you are your competitors, but you are not their competitor and you will not appear in their rankings.
Continue uploading catches for 1 month that the season lasts and show your friends and followers that you have an innate ability to fish.
To compete against your friends you must follow them on the WeFish APP.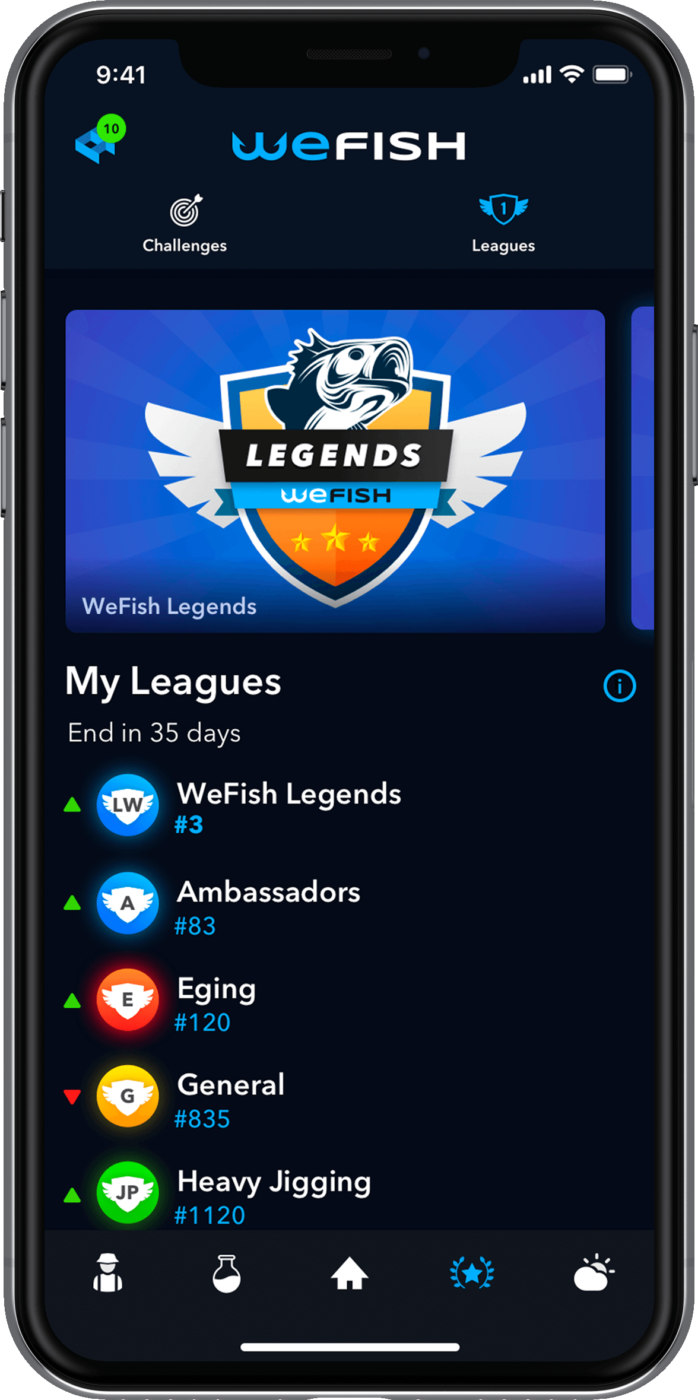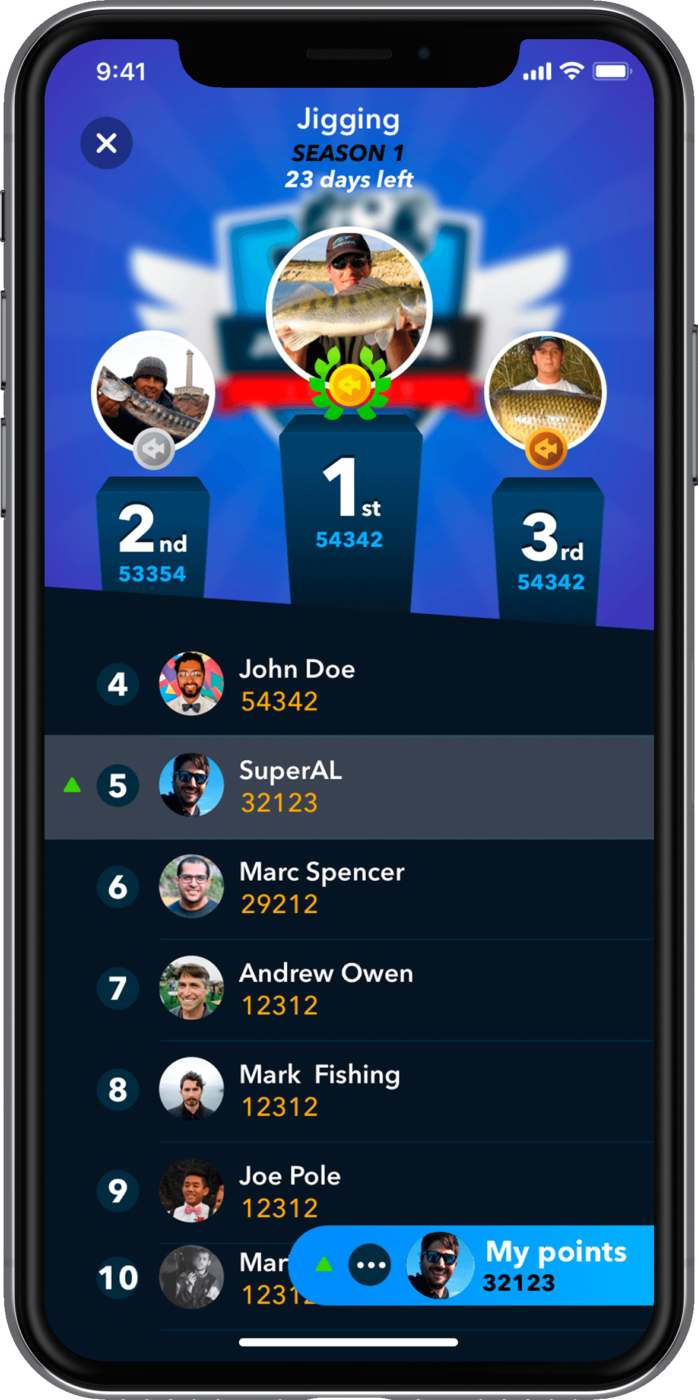 What happens if someone cheats in the League?
If during the League period, you perceive that a user is cheating or committing an infraction, we recommend you to stop following that user and therefore not compete against him so that your ranking is not affected by his bad practices.
At WeFish, we want to promote a healthy League, where the goal is fun and the enjoyment of this passion. To do this, we recommend that you stay out of conflicts and avoid disputes with users who have not followed the instructions and requirements to upload valid screenshots to the APP. Unfollow these users and they will have no advantage over your League score.
How do I follow a user to compete with him?
If you want to compete against a friend who is already a user of the WeFish App but who you do not follow yet, you can search for their profile by clicking on the magnifying glass located in the upper right corner of your fishline (the "explore" part within the APP). Click on "search anglers" and type in their username. Once you have found him, just click the "follow" button.
When you enter the "find anglers" option, the app offers you user suggestions based on your level, your area and recent activity. It is a good way to find new users to follow and with whom to make your leagues more fun.
Your captures in the APP have many more advantages
Uploading your catches to WeFish will not only earn you points for your league, it also allows you to discover fully personalized and effective daily fishing forecasts. In addition, you will be able to know the behavior of each of the species that you have captured thanks to WeFish's high-tech algorithm.
Create your fishing journal, save your progress
Upload what you catch and create your fishing diary with which you can remember all the species caught and the material with which you got it. Replicate every success!
The location of your captures will ALWAYS be private, so other users will not be able to know where you have obtained each species. You can save your capture or spot points and keep track of the most successful locations. But as we say, only you can see it.
Join WeFish now and discover a new way to compete in fishing tournaments. Participate now in the leagues and show your friends and followers that you are a great fisherman. You just have to upload your catches to WeFish and you will be competing immediately, as simple as that, from anywhere in the world and at any time. In addition, if you participate in the League of WeFish Ambassadors and Legends you will have the possibility of obtaining unique prizes with the best fishing materials on the market.