Soft plastics are, without a doubt, one of the coolest types of lures that we can use, both for the variety of solutions they provide and for their effectiveness. The perfection in their manufacture nowadays makes them really look like live fish, making fishing with soft plastic a guaranteed success.
The soft plastic market offer is particularly wide. Sizes, colors, shapes, densities, textures, etc. In short, a whole set of possibilities that does not always facilitate the choice of one or the other model. So how do you decide?
In this new WeFish blog post we will analyze in detail the reasons that may support our choice of soft plastics, advised by the experienced fisherman and CEO of Go Fishing Portugal: Vítor Ganchinho. Do not miss it!

Introduction to fishing with soft plastic
To get into fishing with soft plastic, let's start by characterizing those that exist: In general, we have soft plastics more suitable for surface fishing in rough seas, soft plastics for deep-sea fishing in areas of currents, soft plastics for very calm seas, and micro soft plastics. These are the four most common situations and the limits between each situation are usually quite diffuse, so it's convenient to have a precise idea of ​​each of these variants. The micro soft plastics are very specific since they are exclusive to Light Rock Fishing and don't fit at all into the three previous categories, so we will not take them into consideration in this post.
A good tip is to avoid impulse buying fishing tackle. For this reason, we are going to list the characteristics that allow us to "guess" what we can expect from our soft plastics before buying them. The level of rigidity of the lure is decisive: The softer, the more it absorbs vibrations, the more discreet, so we only play with its visual effect and not with the stimulation of the fish's lateral line. Each manufacturer, when producing a lure, seeks that it has a certain size, a certain rigidity, a certain vibration. He does this by thinking of one type of fish, or another, he has in mind a specific and concrete fishing situation in which his product could be used.
Types of Soft Plastics
Let's see below what types of soft plastics exist and how to use them in each practical fishing situation in particular.
Slug
The 'slugs' are colored, thin and long, resembling the shape of small eels or worms. They are a delicacy for seabass in versions of 10, 16, and 20 cm. They look for them avidly and therefore they are a highly recommended type of soft plastic. This lure is long and very soft, it doesn't have contact points that make too much friction with water, so its movements don't emit too many vibrations.
And it's that vibrations are not always necessary, for example in shallow, clear, calm waters or in highly frequented areas, where fishing is carried out in a usual way, fish quickly weary of the vibrations, stop running and start looking something calmer, more natural. In these circumstances, a softer, longer, more wavy soft plastic with different hydrodynamics has clear advantages. A stiffer soft plastic, with a short and very wide tail, will cause excess movement that is not natural, which will not faithfully imitate any prey and will be rejected.
The calm of waters also forces us to cast further, where the fish is more receptive, away from the noise. Noises that we cause when walking along the shore or on the boat, either due to the impact of the waves or the noise we make inside it. The solution is that in areas with a lot of fishing activity we are discreet and choose a 'slug'. Savage has soft plastics of this type that are good killing machines. They allow long casts since they offer less resistance to the air, and the use of lead heads, where the hook is fixed.
When casting from a distance, we have the possibility of executing a type of movement called 'darting' and that is nothing more than the sudden change of direction of the soft plastic, in a zigzag, caused by small movements of the tip of our rod. Only possible with silver-lead heads. This is an absolutely fatal technique for our predators.
Shad
The 'Shad' are models that have a round tail, a peak that opposes displacement, that locks, and therefore causes turbulence. This part can be more or less perpendicular to the direction in which we collect our lure.
They are made with a more rigid material, therefore more reactive, more nervous, more vibrant, and we can expect different results. While we have to give life to the soft lures, with touches of the rod, with the rigid ones it is not necessary, the simple collection of the line will be enough. Being harder they offer resistance to displacement and, therefore, they emit vibrations. If we are going by boat and the water is rough, moved by the waves, a stiffer shad soft plastic with a flap may be the best option. We will cancel out the noise of the waves and our rigid soft plastic will emit enough vibrations to be detected by the predator. Without a doubt, they are the most sought after by our anglers, but not only for comfort and ease of fishing, but also for their ability to fool.
It's simply to cast and get back the line. Not catching anything can always be attributed to other reasons, the moon, the tide, the nets, the stars … but never to the fact that we are working our lure badly, or that we have made a wrong decision. In the case of Shads, the angle of their tail, more or less inclined, can change our results. More inclined allows more water to flow, so it swims more fluidly and generates less vibration. More perpendicular makes more friction, blocks more to the lure, therefore more resistance, more pressure in collecting, and more vibrations. Remember: when there are too many vibrations, we may be driving the fish away and not attracting it. Everything that is not natural causes fear, rejection.
How to rig soft plastic lures?
Apart from the choice given the variety of this type of lure, another of the most popular doubts by fishermen is how to rig them. Soft plastic worms come in many forms and one of the most popular is a simple stick bait. The stickbait, just a straight tail worm made of soft plastic imitating baitfish, gives off a subtle action that catches fish from winter to summer. Watch this video to discover your best options when it comes to rigging a style of soft plastic worm known as stickbaits:
Fishing with soft plastics in deep water
How to choose when deep sea fishing? Here, the choice is even more obvious. We know our stiff tail shad gives off good vibes, but we also know that it will offer a lot of resistance in the descent because the peak will exert pressure and act as a parachute. If it offers resistance when we reel in the line, it will also offer it when we want it to go down to the bottom, and we need it to go down fast.
If we vertical fishing, there is nothing worse than passing the lure under the boat to the other side. If you fish downwind is fine, if you fish the other way, on the other side of the boat, against the wind and the current, it will be much more difficult. In addition, trying to compensate for the lack of descent with more weight on the head will make it go down, yes, but the animation and mobility that we can give the lure will be much less. It works badly. In these circumstances, it's best to opt for a soft plastic that offers less resistance, a Slug. If our soft plastic is attached to a lead whose head has a conical shape, the better, because it will go down faster. In deep areas, importance is given to the speed of descent, either using lures that offer less resistance, or suitable braided lines for downfall (so-called sinking).
Conclusions on fishing with soft plastic
At the moment of truth, it is useless to have the fish within range if we don't know what to do with the lure, even if we have chosen the perfect one for the occasion. It's not enough to just cast the lure, the speed of recovery and the impulses that we give it can be decisive for success. There is an optimal recovery speed, depending on sea conditions and even the time of year. In summer, with warm waters and very active fish, the speed is not the same as in winter, with the fish somewhat torpid due to the cold waters.
Making a very slow recovery can demotivate the fish, which has a lot of time to follow and analyze the error. On the other hand, too fast recovery can make our catch unviable, because, after a certain point, the lure no longer works, it moves at an impossible and unnatural speed. Let's not forget that fish usually choose to eat the weakest, the slowest, the ones that involve the least energy expenditure. A predator doesn't exhaust itself going after something that is too small, nor is it worth swimming for something too fast to force a high-calorie intake. So every time we buy a new soft plastic we will always have to test its most productive recovery speed.
In summary, there is a suitable lure for each type of fishing with soft plastic, and it's up to us to know how to read the water and decide, depending on the characteristics of our fishing, which soft plastic is best suited to that specific situation. Basically, and as always, we will have to think about fishing before doing it to get results.
We remind you that all the information in this post comes from the original text by Vítor Ganchinho 'Pescamos com vinis – Sim, mas como escolher?'.
---
TOP Soft plastics recommendations
Now that you know how to choose soft plastics based on the specific fishing situation, you just have to buy and test them. The WeFish community recommends fishing products daily, here are the soft plastics most recommended by our users: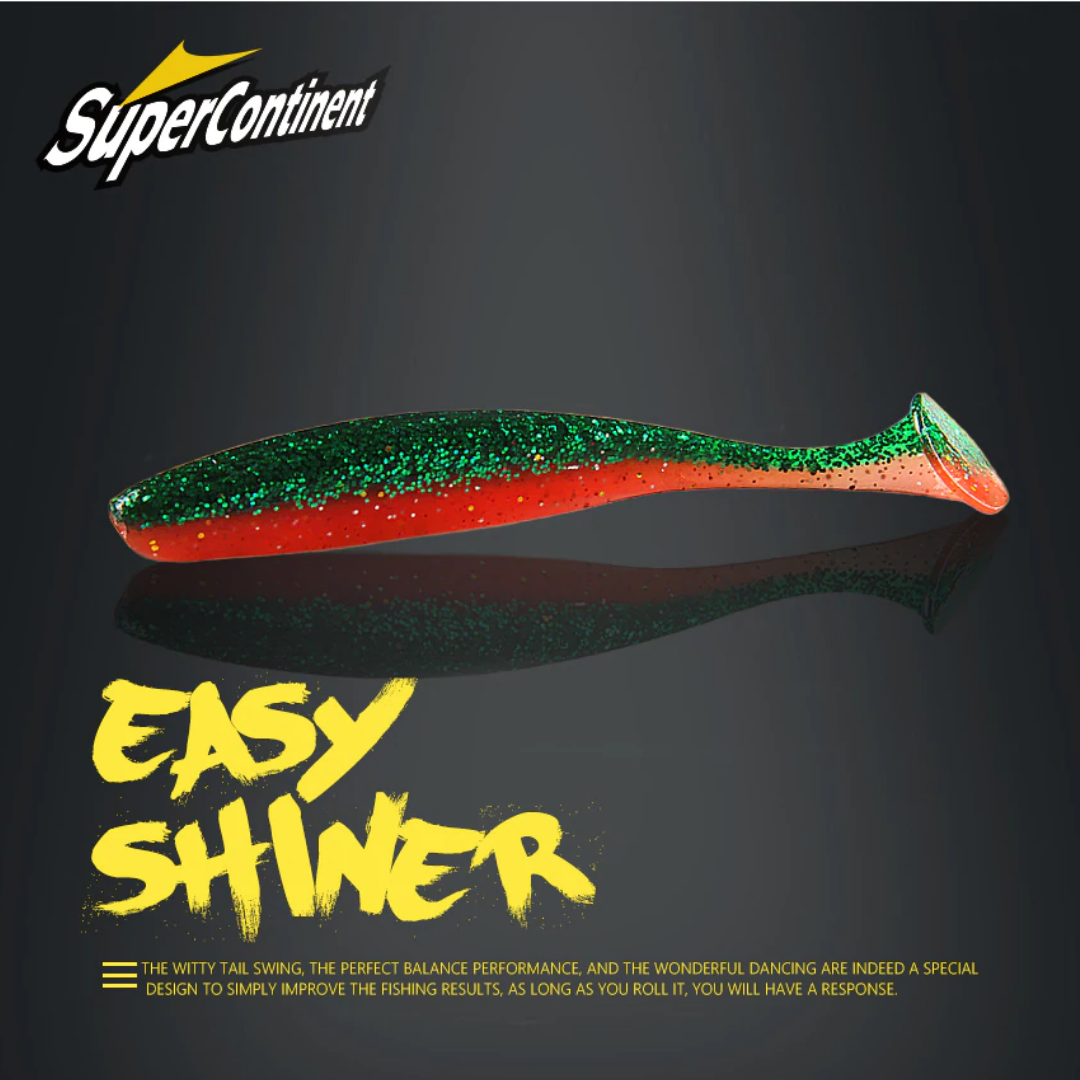 Join the best fishing app for free to learn more about fishing with soft plastic, and to visit our marketplace so you can find the best recommendations on these products.