Walleye fishing may seem difficult but at WeFish we are going to help you to make it a piece of cake. In this post we will explain everything you need to know to catch a walleye: Behavior of this species, types of fishing to catch it, what is the best equipment, tips and tricks … Do not miss it!

What is a walleye?
To learn about fishing for a species, we must first get to know that species. When we talk about the walleye we can refer to two different species of fish:
In this post we will focus on fishing for this last species, the American Walleye. It is a species of fish in the Percidae family in the order Perciformes (Perch-likes). This freshwater fish is native to most of Canada and the northern United States.
Why is it also called Yellow Walleye or Yellow Pike? It is in order to distinguish it from the blue walleye, which is a subspecies once found in southern Ontario and Quebec, but is now presumed extinct. We must not confuse the walleye with other freshwater fish that resemble it, such as Sauger or Yellow perch.
If we talk about the characteristics of this species, the walleyes are large, elongated fish with two separate dorsal fins. It is mainly olive and golden in color, turning white on the belly. The mouth of a walleye is large and armed with many sharp teeth. This species is commonly about 54 cm (21.3 in), although males can reach up to 107 cm (42.1 in) in length. In terms of weight, the maximum they can reach is 11.3 kg (25 lb).
Walleye feed at night, mainly on insects and fishes such as yellow perch or freshwater drum. It also feeds on crayfish, snails, frogs, mudpuppies, and small mammals.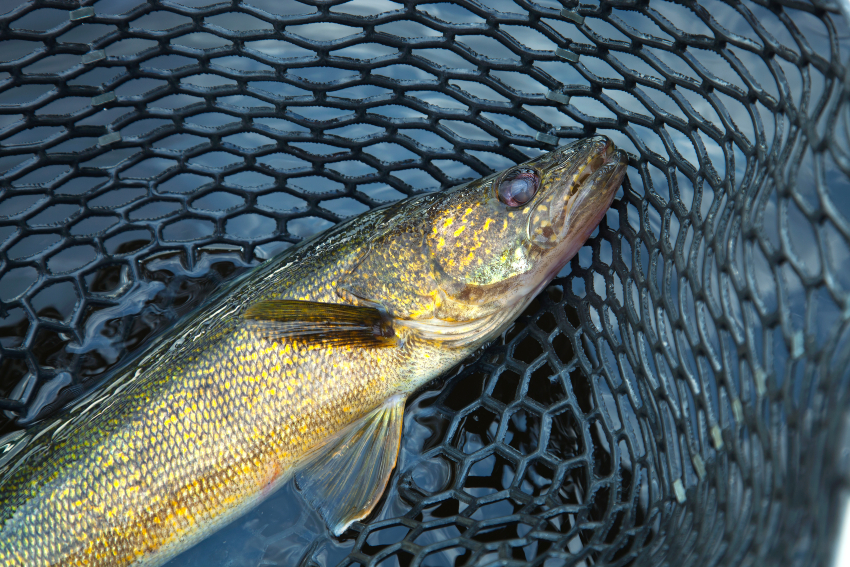 Where to find them
American walleye as its name suggests is found in North America: St. Lawrence-Great Lakes, Arctic, and Mississippi River basins from Quebec to Northwest Territories in Canada, and south to Alabama and Arkansas in the USA; possibly native to Mobile Bay basin. It is widely introduced elsewhere in the USA, including Atlantic and Pacific drainages.
Locating walleye is the hardest part of catching them. Walleye are generally deeper than 10 feet, so locating them has a lot to do with your understanding of what goes on underwater. Its environment is freshwater with a depth range 0 – 27 m. Found in medium to large shallow lakes, pools, backwaters, and river streams, usually near undergrowth.
Walleye fishing, how to catch it?
Walleyes are a popular species in fishing. The common name "walleye" comes from the fact that the fish's eyes point outward, as if looking at the walls. This is an advantage for fishermen since in the dark the eyes of the walleye emit a certain brightness, making it easier to see them. Also, at night is the perfect time to catch them because that is when they feed the most. Fishermen will therefore look for this species at night, in cloudy waters and even in deeper waters (since they have very good vision).
This species can be fished both from shore and from boat, but without a doubt the chances of catching it will increase if we use a boat. Anyway, it's important to fish very slowly. Once a walleye is caught, continue fishing the same area. Where there is one there will usually be more. Also make note of the bottom or "structure" and look for fish in similar habitats.
If we talk about seasons, in spring walleye bite almost any bait or lure, and in autumn they also have good feeding activity. On the other hand, in summer months they can be more difficult to catch.
Anglers will often use the term "walleye chop" to refer to an optimal weather situation for fishing this species. These are rough waters with winds of 10 to 25 km / h (6 to 16 mph), which is when walleye can have the most feeding activity. If you want to plan your fishing trips to find the best places and these optimal conditions to catch the walleye, remember that you can use the WeFish fishing app.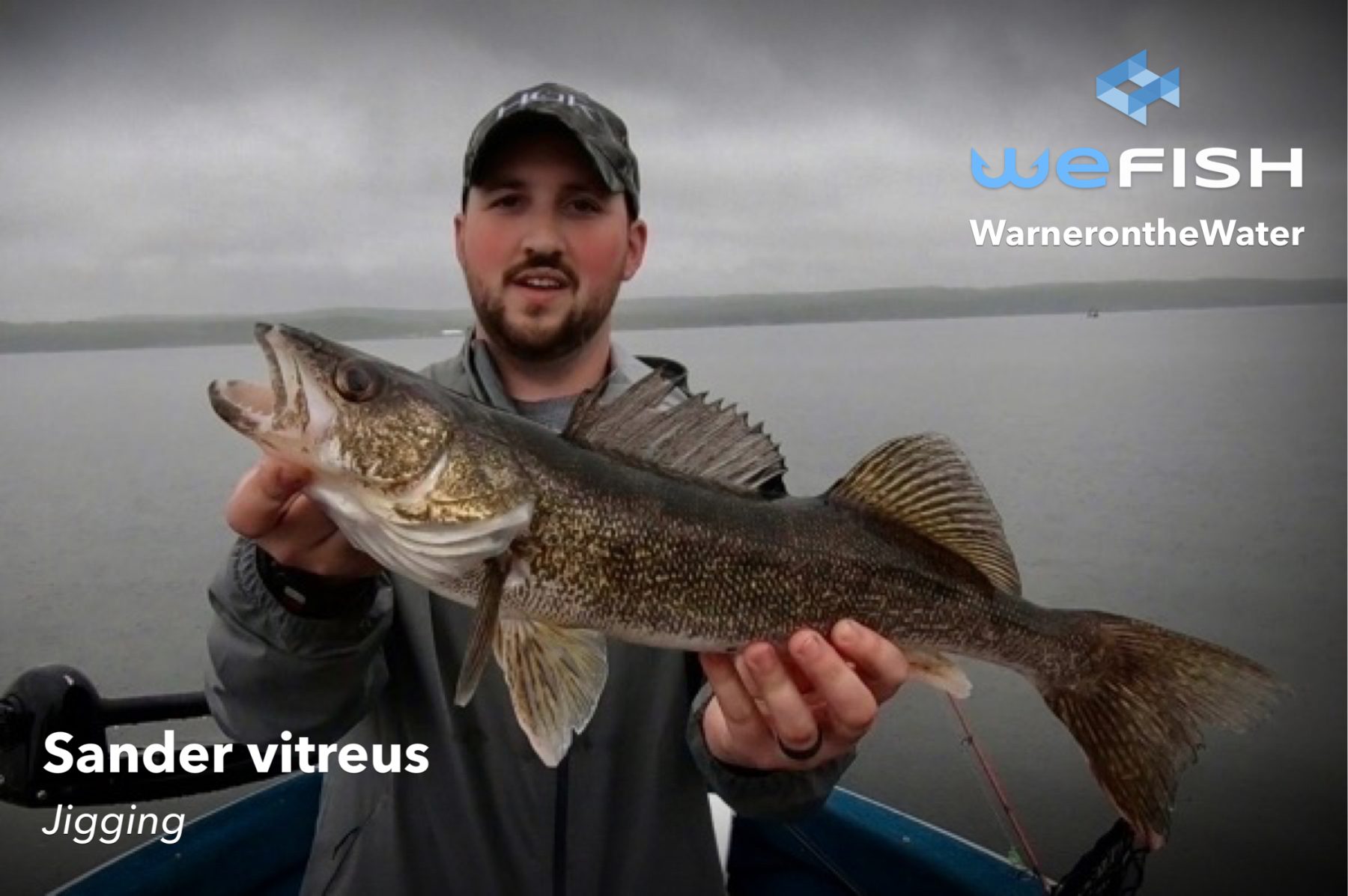 Types of fishing for catching a walleye
There are different types of fishing when it comes to catching a walleye. We tell you some of them and the best fishing gear to use in each one:
Ice fishing is the star type of fishing to catch the walleye. It is a technique widely practiced in the winter seasons by American and Canadian fishermen. Walleye can be easily caught in winter thanks to this technique, usually with the use of lures (jigs, fishing spoons or minnows). When fishing on ice, walleye is caught jigging or in tip-ups. For bait, the most common minnows are fatheads and shiners, with a recommended size of 1 to 7 inches.
Spinning, casting and trolling are some of the other most suitable modalities for fishing this species. What lures or baits can we use? We recommend spinners, minnow-imitating plugs or spoons. For trolling special worm harness rigs of spinners and beads can be used. Another option when trolling is the use of large deep-diving plugs in bright colors. Walleye favorites are jigs, whether they are traditional bucktails or tripped, also a piece of worm or minnow. Casters must use a lure that is heavy enough to sink rapidly to the bottom.
It is not the greatest technique, but the use of live bait is the best option when you're first learning how to catch walleye. You can use live bait either jigging or rigging. Excellent live bait choices are nightcrawlers, minnows (shiner and flathead), or leeches, all of which can be used on a jig.
Fishing gear for walleye fishing
In the previous section we have talked about some of the lures and baits that can be used, but what more fishing gear do you need to fish for walleye?
As for rods and reels, we recommend starting with spinning gear, for example a medium sized 35 reel and a typical Medium Power 6-7 Ft. spinning rod, ideal for lures and soft plastics. If instead of fishing with lures you dare to use live bait, a Medium Light power rod will be more suitable. The rod should be Fast Action either way. As for the fishing line, it is recommended to use several options, for example an 8 pound monofilament or a 12 pound fluorocarbon.
If we delve a little more into the lures and baits that can be used for walleye fishing, we have the following ones: Curl Tail Grubs, crankbaits, ring worms, paddle tail shads…
The best walleye fishing videos
Ice fishing for walleye:
Trolling for walleyes – underwater shots:
Walleye ice fishing at night:
---
It's clear that fishing for walleye is a popular sport with anglers. If you are new to walleye fishing, we hope this post has helped you learn a little more. If you are already an expert, we will be happy to see your catches of walleye in the WeFish app and to you to share your knowledge and tips with the community.