Today we bring to the WeFish blog; the 5 best fishing challenges. We fishermen love to demonstrate our skills in this sport and challenge ourselves with our friends. What better way to do it than with fishing challenges?
Fishing challenges can be very varied: catching a certain species, catching different species with some specific type of fishing, catching the largest fish, fishing with a specific lure or equipment… In short, these are challenges posed by fishermen or by fishing lovers to have fun and compete with friends or other anglers.

Fishing Challenges – TOP 5
Shark Fishing Battle
Is there anything more exciting than a shark fishing battle? I do not believe so. That is why we show you in this video of one of the most exciting fishing challenges.
The rules for this fishing challenge are simple: the angler who catches the most sharks until midnight wins. Don't miss the video to find out who won the battle and how many sharks he managed to catch. Of course, all sharks were caught, tagged, and measured for research, and then safely released.
Food Chain Fishing Challenge
This challenge consists of going from tiny fish to giant fish. You have to start fishing with bare hooks, catching small fish, and using them as bait to catch giants, so it is like the food chain of the ocean. Don't miss the video, they finish the challenge catching a Goliath Grouper!
Fishing Challenge – Connecticut
The Fishing Challenge is a fun-filled year-long activity in Connecticut, United States. Anglers are challenged to catch the most fish on a scorecard, and catching a large fish may qualify them for a Trophy Fish award. "Fishing Challenge" is to try and catch each of these different fish within the calendar year. Some will be very easy and some may take some effort.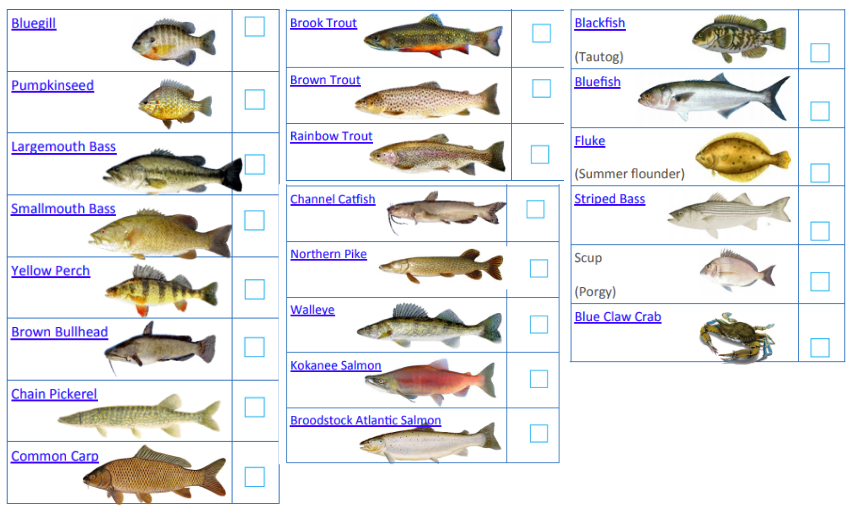 How do you participate in this fishing challenge? It's easy, you just have to take a photo of your catch in which the fish and the fisherman appear. If you think it is a good size and qualifies for a Trophy Fish award, the fish should be next to a ruler to show its length. Then you must send the photo and conservation identification number by email to deep.inland.fisheries@ct.gov.
The Fisheries Division will keep a record of each angler's catches. The top four anglers (with the most number of fish from the scorecard) will be will a prize pack filled with great fishing gifts and be invited to the annual Trophy Fish Award Ceremony held each February.
Arizona Fishing Challenges
The state of Arizona challenges freshwater fishermen with 3 different challenges:
Arizona Hawg Bass Challenge: This is a three-tiered challenge designed to encourage anglers to learn about and pursue really large largemouth bass while encouraging and celebrating catch-and-release on individual fish over 5 pounds. The three levels are: 5 pounds or 21 inches, 8 pounds or 24 inches, and 10 pounds or 26 inches.
Arizona Fat Cat Challenge: Fishermen are dared to catch a 40 pounds or 45 inches or larger flathead catfish or a 15 pound or 36 inches or larger channel catfish. This challenge encourages anglers to learn about and pursue prize-sized flathead and channel catfish while encouraging catch-and-release on individual fish that exceed the designated weight or length.
Trout Challenge: There are two ways for anglers to complete the challenge, catching all four species of wild trout in Arizona (Apache, Brown, Brook, and Rainbow trout). Or catching at least six of the eight total species in Arizona (Gila, Apache, Brown, Brook, Rainbow, Grayling, Cutthroat, and Tiger trout).

To participate in the first two challenges you just must take a photo of your catch while weighing or measuring it and then release the fish to the water. Submit your picture via BFishing@azgfd.gov. You can win different prizes such as clothes, stickers and fishing gear.
In the case of the Trout Challenge, anglers must submit a completed application with species, location caught, and date caught and also photographs of each species caught. Then they have to email applications and photos to aztroutchallenge@azgfd.gov, or mail to: Arizona Game and Fish Department.
Wyoming Fishing Challenges
Wyoming Game & Fish Department offers 4 differents fishing challenges:
Cutt-Slam: Catch Wyoming's four cutthroat subspecies in their native range in Wyoming. Take a clear photo of each fish and collect the date and location. Attach your photos and enter your catches in the online Cutt Slam application. You will receive a personalized certificate, a medallion, and a vehicle decal.
XStream Angler Program: To become an X-Stream Angler you have to find streams to fish and fish in at least three instream flow segments. To participate just fill out the application form, attach a photo of you standing next to or in each stream fished, and submit the application. You will receive a great cap!
Youth Fish Challenge: Any young angler (18 years of age and under) who catch a fish in Wyoming can participate. There are 11 different challenges! Photos must be taken with the youth and the fish at the water of catch. Then, the verification sheet and photos must be submitted to the Wyoming Game and Fish Department for authorization. Youth who successfully complete any slam will receive a collectible certificate recognizing them for their accomplishments and showing the species caught.
Master Angler:This challenge recognizes the catch of trophy-sized fish from Wyoming waters. There are three levels of achievement; Master Angler (1 Qualifying catch), Trophy Angler (5 Qualifying catches), and Ultimate Angler (10 Qualifying catches). Each entry must be accompanied by one side-view photograph, preferably with either the angler or another object (e.g. ruler) that can be used to validate length. You will be awarded a Master Angler decal sticker of the fish species you caught, a Trophy Angler Award challenge coin, or a plaque to honor your achievement and recognition.

More fishing challenges
The internet and social media are full of fishermen sharing their fishing challenges, those they have overcome and those that are yet to be overcome. Some fun examples you can try are:
Topwater with fluorocarbon.
Straight braid in clearwater.
Lures you've never used.
Topwater all-day.
6lb+ smallie from the kayak.
8lb+ largemouth from the kayak.
40+" musky or northern pike on the kayak.
Catch a striper.
Catch 3 bass at the same time on a jerk bait.
Catch a bass on a bare hook.
Catch a bass on a breadball.
Catch a bass on a handline.
Catch 5 species in one day.
Catch fish using only rod, reel, terminal tackle, and garbage found around the fishing spot.
WeFish Fishing Challenges
Still want more fishing challenges? We have the solution: WeFish. In this great fishing app, you have a section called 'FishGame' where you can find a lot of fishing challenges. If you are an intrepid fisherman looking for real challenges to prove your worth and talent for fishing, at WeFish we also reward those who venture into new things, so we invite you to complete our challenges!
Catch different species in different ways, from different fishing spots or a specific number of different species. With every challenge you complete you will get extra gold stars and you can even win exclusive prizes as fishing gear, clothes, discount coupons, etc. What are you waiting for? Free download WeFish and start passing the best fishing challenges!